At the end of September 2015, a group of 20 students from the Tse Qigong centre went on a trip to Beijing and Chen Village, led by Sigong Master Tse. Chen Village is the birth place of not only Chen style Taijiquan (Tai Chi), but also of all styles of Taijiquan (Tai Chi), as they all derive from the original Chen style. This is a personal account from Christine's experience of the trip. The Tse Qigong Centre periodically organises trips to China to visit the Grand Masters of the skills taught by the Centre and to places of interest in China to experience the Chinese philosophy and life style first hand.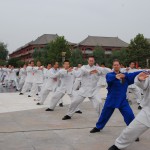 By Christine Barbier –
When Sigong texted to ask if I wanted to come to Chen village, my first thought was "oh yes" that sounds great, then my second thought was "oh no" I have no spare holiday. Then Sigong texted again to add that the trip would include Beijing. Now from great the trip went to fantastic. Beijing is synonymous with Forbidden City and Great Wall of China, two sights that I always wanted to see.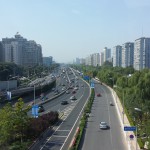 Arriving in Beijing was the start of a wonderful trip. We got out of the airport to be greeted with heat, sunshine and the first breath of Beijing air, which is very dry, dusty and somewhat not too fresh. The first impression of Beijing was of vastness. You hear about the 1.3 billion people in China but seeing Beijing that day brought it home just what that abstract number means. There were miles and miles of gigantic skyscrapers, all different, all looking very new, modern, and unusual in architecture. You could hear a constant noise of camera clicks on the bus all the way to the hotel.
Beijing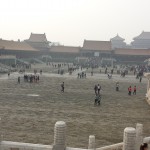 When in Beijing we visited Tian Anmen Square, so often mentioned in the UK news, the Summer Palace, the Great Wall, the Forbidden City, and the Temple of Heaven Park where Sigong had in the past practiced Qigong which his Sifu Grand Master Yang Meijun which made the place very special to our group.
Forbidden City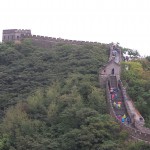 All were very nice but the Great Wall was most special. It runs through rugged mountains which makes walking along it a real workout with sections so steep and steps so big that we had to use our hands to go up. So this was very much a high point on the trip.
Great Wall of China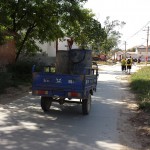 We then travelled to Chen village, the birthplace of Taijiquan, by very smooth and fast train. We trained together many times, practicing Chen Laojia form. We also had a great experience walking around the hotel, seeing the country life, the local buildings and the local community. We were a bit of an unusual sight, a group of 20 foreigners all wearing the same yellow tee-shirt, and the locals took as many pictures of us as we did of them.
Around hotel near Chen Village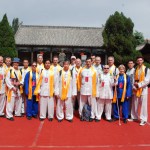 Chen Tai Sigong 70th birthday party had many events taking place including a conference where lectures about Taijiquan were given with Sigong being one of the key speakers, a mass demonstration of Laojia in which we took part which was very exciting, and a big dinner to celebrate the actual birthday. After the party was finished we were together in the lobby when Chen Tai Sigong happened to walk past, so he stopped and shook hand with each of us and we had a picture with him, which was all very nice.
The group at Chen Ancestors temple, Chen Village
This trip was only made possible thanks to the great efforts of Sigong and Sitai who arranged all the details. All we had to do was be on time and listen to instructions … the rest was taken care of. What we did and what we saw was a truly unique experience and I am so fortunate to have been there. I also very much enjoyed the company of everybody else on the trip. So a big thank you to all.