On-line Classes

, every Wednesday (on Zoom)
6.30 to 7.30pm
7.30 to 8.30pm Choose one of the two following classes, which are run together at the same time
8.30 to 9.30pm
In-person Classes

, occasional
There are In-person (face to face) classes available on an ad-hoc schedule throughout the year (subject to any social distancing limitations). Click here for details of current In-person classes.
---
Before attending a class (On-line or In-person), please see the current class schedule to check that the class is running that week.
---
Download a class leaflet here.
---
Attending your first class
Beginners are welcome to join both On-line and In-person classes at any time during the year, there is no specific joining time in the year.
For On-line classes, please contact me to obtain Zoom joining details.
For In-person classes, please contact me to check if there are spaces for the class (there may be social distancing limitations on numbers).
Classes are suitable for all levels of fitness. No special equipment is required, just comfortable clothing and footwear.
If you have never attended a class before, please arrive early to an In-person class for registration.
---
In-person classes located in Hexham area
Hexham is situated 30mins away (by car or train) from Newcastle upon Tyne.
The Bodywork Centre
4 Eastgate
Hexham
NE46 1BH
The Bodyworks Centre is located on the Slaley road, on the opposite side to the Tap and Spile pub.
View Map
  External view of the Bodyworks Centre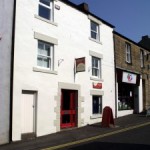 View of the class room at the Bodyworks Centre